Administrator
Staff member
Borealis Watch Company in cooperation with Diver's Watches Facebook Group, which was founded in 2011 and is nowadays the largest watch group with over 38,000 members, is happy to announce the re-launch of an iconic watch series, the 2018 Borealis 'Estoril'.
The Borealis 'Estoril' is heavily inspired from classic military diver watches developed in the 1960's and built with 21st century technologies.
This special edition of the Borealis 'Estoril' is a limited edition of a total of 300 serialised pieces featuring two dial color options [black and blue], two versions [date and no-date] and two distinct lume compounds [super luminova white lume and super luminova 'old Radium X1'], making it a total of 16 possible dial combinations.
The DW 'Estoril' will be the only 'Estoril' issued by Borealis in 2018.
The watch is powered by a Miyota Cal. 9015 automatic movement, manufactured by Citizen Miyota in Japan, has 24 jewels and beats at 28,800 bph.
Total pre-order price: $430.00 USD plus shipping. To all customers in the European Union, VAT is to be added*. Confirmation deposit: $100.00 USD (+ VAT for European Union customers*). The remaining balance of $330.00 USD (VAT to be added to European Union customers*) plus shipping is to be paid when watches are ready.
Expected delivery date: mid-April 2018, though unforeseen delays may occur during the production process Limited-time offer:
To all pre-orders placed during November we will offer a free 20mm rubber strap in black or blue (according to variant pre-ordered). DW will also include a free DW polishing cloth for all November orders.
IMPORTANT NOTE FOR EU BUYERS, REGARDING VAT: *Unless you are a VAT-registered company, in which case please contact us via email if that is your case, for payment arrangements.
To reserve your watch and place your pre-order, please click on this link:
https://www.borealiswatch.com/store/Pre-order-c14605010?sort=nameAsc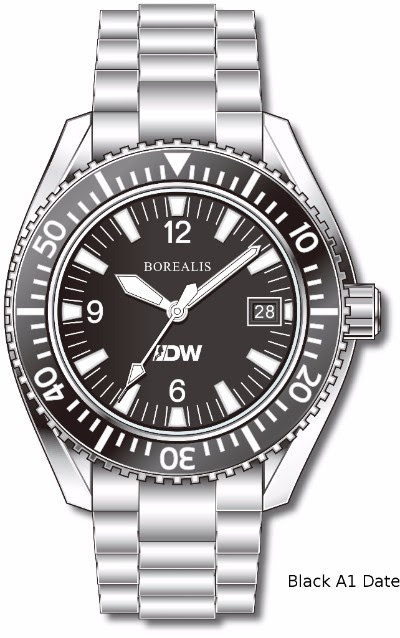 Pre-Order Now