Feed from Wornandwound.com .Borealis Watch Forum takes no responsibility for any of the content posted.
Back in late June, when the Only Watch auction pieces were unveiled, we were all met with a charming surprise. An event of bespoke one-off timepieces, the brands that contribute typically fall well within the typical definition of "luxury brand," from Tudor to F.P. Journe and beyond. So, to see Baltic, a Worn & Wound mainstay, as well as a generally excellent representation of what micro-brands are up to these days, was very exciting. And the watch didn't disappoint either.
A monopusher with a vintage movement
, a new 36mm case, and applied Breguet numerals, it was very sexy, and left us all wondering if we'd see something in their mainline that would pull from this model. Well, today we have the answer.
The Baltic MR01 is a series of three-handers that are their version of a truly classic, thin dress watch. Though Baltic's HMS and BiCompax have always aired on the side of dress, particularly once they moved to a sector layout, these new models are undoubtedly formal by today's standards. The 36mm case from Only Watch makes its catalog debut here, and at least on the production samples sent our way, sets a new standard of finishing for the brand. The dials then have an element of glamour that is new to the line, coming largely from the evocative forms found in Breguet numerals. But, the biggest surprise is actually what is within.
36mm fits so well
$630
Hands-On with the Baltic MR01 Micro-Rotor Dress Watch
Case
Stainless Steel
Movement
Hangzhou ELA05MN
Dial
Silver, Blue, and Salmon
Lume
NA
Lens
Acrylic
Strap
Leather
Water Resistance
NA
Dimensions
36 x 44mm
Thickness
9.9mm
Lug Width
20mm
Crown
push-pull
Warranty
Yes
Price
$630
When Baltic launched in 2017 they did so with their
HMS and BiCompax V1 models
, the latter of which utilized the Seagull ST1901 movement. At the time, few brands used this movement despite being the most affordable manually wound chronograph available because of general consumer mistrust. Despite this, Baltic chose the movement as it best fit their concept, actually charged more than most for it, were wildly successful with their launch, and have continued using it to this day. In other words, it worked out. Recently, we've seen Seagull pop up more and more, which is something I think we can credit Baltic and a few others for, as they proved it was a viable movement, and of good quality when handled properly.
The reason I bring this up is that with the MR01, Baltic is testing the waters once again with a movement we've scantly seen before, and are very excited about. The Hangzhou ELA05MN is a micro-rotor automatic with 30 jewels, a frequency of 28,800 bph, a 42-hour power reserve, and an off-center small seconds. Micro-rotor movements are few and far between, and beyond this caliber, essentially unavailable in any other "affordable" form. Vaucher makes one, you can find it in the Slim d'Hermes, and soon Horage will be producing one that will debut in the Supersede. Both are north of $5k.
You have to love a movement that fills out the watch
Heavily decorated
The golden rotor is a nice touch
The reason they are cool is two-fold. First, they allow for generally thinner watches as the rotor is within the thickness of the movement, rather than being another element on top. I believe, though am uncertain (watchmakers, speak up) if, this might also allow for less need for space between the movement and the case back as clearance is less of an issue, further reducing thickness. The result can be watches, like the Universal Geneve Polerouter, that are small, light, thin, and hard to believe are automatic. The second is that by not being covered by a rotor, the movement is more fully visible, giving you the view of a manually wound watch with the convenience of an automatic.
And the Hangzhou succeeds in those regards. Like the ST1901, it provides more spectacle for your dollar than one would expect. Through the display case back, the movement, which nearly totally fills out the watch, is great to look at. A golden rotor sits off-center within multiple plates and bridges that are given radial "Côtes de Genève" style graining. An exposed balance beats away over a plate of perlage that is also visible behind the rotor. Blue screws, red rubies, and golden gears stand out against the silvery backdrop. It's altogether far more exciting than what you typically find in a watch that goes for less than $700. But, also like the ST19 the movement is perhaps best viewed in hand rather than with a loupe, as the finishing is attractive, but a bit synthetic and coarse upon very close inspection.
8mm w/o the crystal – perfect
With that all in mind, the MR01 features a 36mm x 44mm case with a thickness of 9.9mm to the top of domed sapphire crystal, 8mm without. Sure, there are thinner automatic watches, including Nomos Neomatiks, but they are uncommon particularly at the price. The watch also is well-proportioned, split between a slab bezel that steps in ever-so-slightly, a slender mid-case with lugs that hook down sharply, and a screw-on case back. Each section is thin and the whole watch reads as elegant from the side.
In a smart move, and a step away from the HMS/BiCompax, Baltic polished the whole top surface of the watch. Given that it is a dress watch, this is totally appropriate, but it also gives it a sharper look, particularly along the edges of the lugs. The sides, which are flat are then beautifully brushed along the length of the watch. A thin, polished crown stands out in contrast along the side. At this point, you really can't tell the difference between a $700 dollar watch and one that costs a few thousand. The finishing is crisp and clean.
Slightly stepped in bezel
gorgeous brushing
sharp lines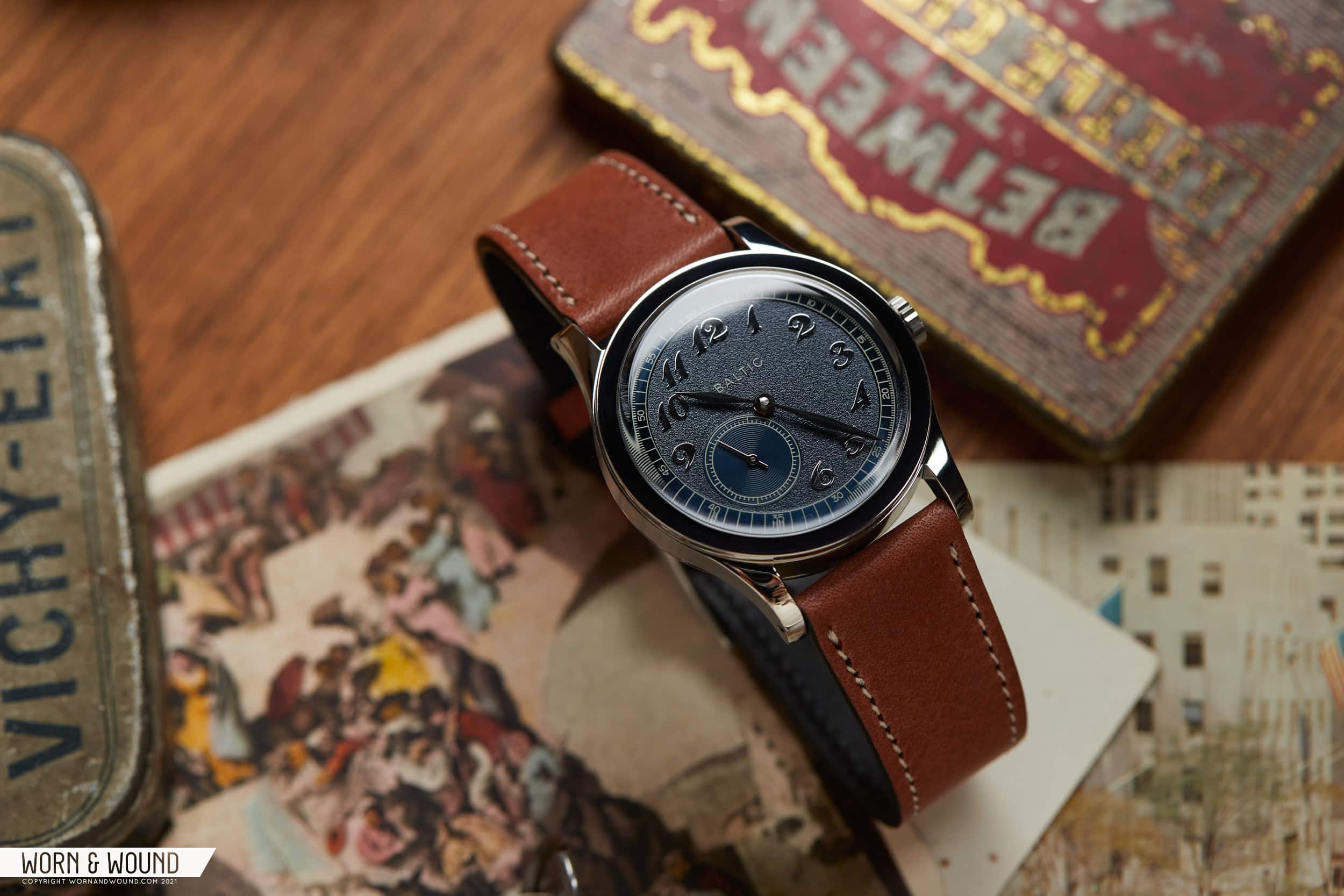 fully polished upper surfaces
The dial clearly draws on the finishing techniques Baltic utilized in their sector dials, combining brushing with a stamped grain for a dramatic effect. The center of the dial is fully grained for a matte finish that also gives the area a pale, almost desaturated tone, which in turn allows for the applied, polished Breguet numerals to really stand out. A railroad index sits on a brushed ring, which is much darker in comparison, framing the inner region. Lastly, a grained ring encircles the whole dial adding a touch of brightness where the crystal distorts. The hour and minute hands are wide leaf shapes with a slight crease in polished silver.
Polished Breguet numerals provide contrast
Between seven and eight is a fairly large sub-seconds dial with circular graining and an index of black lines. The off-center seconds is a bit jarring at first, but adds to the quirkiness and overall unique charm of the watch. But it's the numerals that really are the star of the show here, so if you're not into them you are out of luck. They are large, perhaps a touch too large even, but very well executed. There are some very fine details where the numerals curve in on themselves that come to seemingly impossible points.
A unique, but dense dial
That said, I can't help but feel like the dial is a bit crowded. Between the numerals and the sub-seconds, which is large given the area, there's not much room for things to breathe, or your eyes to rest. It's not chaotic, or busy, just tense. Perhaps a few less numerals would have opened it up, as I imagine given the level of detail that the numerals couldn't have gotten much smaller. At least there is no unnecessary text or a date window to contend with.
Regardless of my pickiness, it's very attractive and an uncommon look that is welcome at the price. The dial is available in three colors, blue, silver and… salmon. Yes, the coppery-fishy tone has made a return, last seen in our LE collaboration. All three have their charms, with the deep blue having the most modern look, the silver providing the most contrast, and perhaps most conservative style, and the salmon, for something more provocative. Depending on your tastes and style, one is likely to suit you well, though black and gold, vis-a-vis the Only Watch monopusher, does feel like a missing option.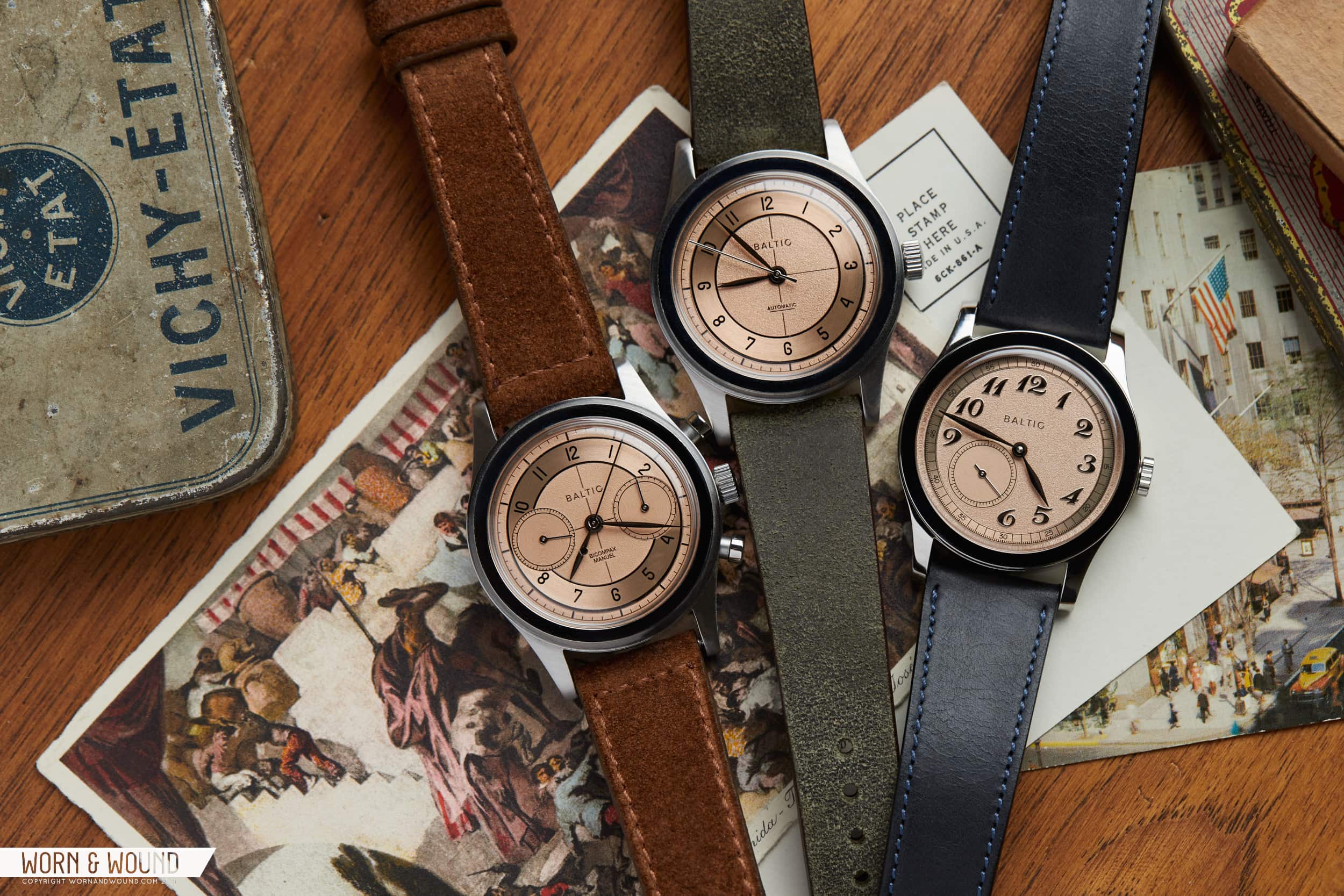 Salmon, three ways
The copper tone adds flair
unique texturing
I'm always amazed by how much presence a 36mm watch can have. The thick bezel and 20mm lug width give the MR01 an unexpectedly robust look that works well at the size. These aren't delicate feeling dress watches, yet they are elegant in appearance. And they wear well. As would be expected from the size and thickness, they sit nicely on my 7" wrist, obviously never looking large, but also never feeling small or undersized. In fact, this almost makes me wonder if I should take 34mm dress watches more seriously.
In terms of looks, the MR01 is a welcome departure from the sports watches that typically flow through the office. While a style I don't normally associate with my own, after wearing it for a little while, I grew to appreciate it and could see how it would fit in my rotation. It's a bit ornate, but not too much so. The play of finishing from the polished numerals to the grained dial and then out to the polished case makes them eye-catching from a far, but not "blingy." Though I didn't have occasion to wear one with formal attire, I could see how with anything from khakis and blazer to a suit, they would genuinely feel at home.
Classy and stylish
The Baltic MR01 is a welcome addition to the now seasoned brand's growing roster of vintage-inspired timepieces. The design, from the size to the numerals, is a welcome departure from the vintage sports watch trend that still prevails, and hopefully will mark the beginning of a return of more dressy and formal watches. But, in addition to the design, you also have a unique movement, which I do understand might be challenging for some.
This makes me think that perhaps there is a third reason for the micro-rotor movement – simply that it's different. It's not another Miyota 9015, or Seiko NH35, or ETA, or Sellita, or any other brand you're used to seeing. It's exotic, without being expensive, and makes the watch, which is an occasional watch by design, more interesting to wear. Yes, interesting. It's something to look at and think about and be interested in. As part of this hobby, we like to take off our watches and show them to other people and talk about them and the little details that make them special. By using this movement, Baltic built a story into the watch, and that's pretty cool.
One last view of the micro-rotor
The Baltic is available to order now for 542€ (around $630). The first 200 of each color will be numbered, and there will be 20 trilogy sets available as well.
Baltic
Images from this post:
The post
Hands-On with the Baltic MR01 Micro-Rotor Dress Watch
appeared first on
Worn & Wound
.
Continue reading...
Let us know your thoughts and impressions.