Feed from Wornandwound.com .Borealis Watch Forum takes no responsibility for any of the content posted.
I'm going to kick off this review with an admission that I've long been a fan of the Benrus Type I and II MIL-W-50717 designs. A definitive military tool dive watch by one of the late, great, though recently re-resurrected American watch brands, I've encountered numerous vintage models and other similar watches that have descended from the same tried and true mil-spec over the years, and have always admired them. It's the closest there is to an iconic American dive watch, and in its blunt, overbuilt, no-fuss kind-of-way, sort of the perfect watch for that honor. So, when it comes to the design of the 2020 Benrus Type I reissue, which is a close remake (though with some important differences), I'm already sold.
Well, not really, but when it comes to the overall design, I don't need convincing. But before we get there, let's take a quick look at the brand. Founded in 1921 in our hometown of NYC by Benjamin Lazarus (BEN-RUS), Benrus has a rich history and catalog full of great watches and designs. Though they are most famous, or perhaps well-known for their military-issued watches, their other achievements include one of the sexiest "super compressor" divers you'll ever see, incredible jump hour dress watches, being on
Steve McQueen's wrist,
and much more. But, like many brands, they didn't survive the Quartz crisis, and after a few ownership changes, the brand all but disappeared.
THE BENRUS TYPE I reissue
Well, until now. You see, Benrus, finally, was brought back to life by people who want to pay some respect to its history. Sure, it's the trendy thing to do these days, but for many years Benrus was something odd that, to be honest, wasn't worth paying attention to. It was just an old name with no connection to its history or seemingly what was happening in the industry. With the Type I, that's changing. They got an archivist, they've dusted off the old catalogs, and they landed on perhaps their most famous design from an enthusiast's perspective.
Created to be the toughest watch in its day, and issued to only the most elite units of the US armed forces, the Type I was purposeful, practical, built like a rock, and charmingly understated. To get the full run-down on the originals, check out our article
Benrus Type I and Type II MIL-W-50717 Military Dive Watches.
A "sleeper" of sorts, the Type I can probably beat up your other watches but doesn't need to because it knows it can, if you know what I mean. Nearly 43mm in diameter, with 300m of water resistance, the original must have been very imposing in 1972.
$1700
Review: the Benrus Type I Reissue
Case
Matte Stainless Steel
Movement
ETA 2681
Dial
Black
Lume
Yes
Lens
Domed Sapphire
Strap
Nylon
Water Resistance
300
Dimensions
42.5 x 47.7mm
Thickness
14.8mm
Lug Width
20mm
Crown
Screw-down
Warranty
Yes
Price
$1700
Case
The modern watch keeps this aggressive stance and the overall design is unchanged to the naked eye, measuring in at 42.5 x 47.7 x 14.8mm. The blocky design has no bevels or any other decorative elements, yet its angular, extended right side, which protects the screw-down crown, is a distinctive feature. This provides the case with an unmistakable personality and makes it recognizable at-a-glance. Benrus upped the lug-width from 19.5 to 20mm for obvious reasons.
The original
The Reissue
Looking down the lugs, the bezel slopes with a surprising amount of elegance into a double-domed sapphire crystal, one of the upgraded elements. If little details make all the difference, Benrus did a great job on the bezel, with the etched, paint-filled numerals on the bezel looking right off a '70s model. That said, it too went from acrylic to a more modern aluminum insert, though you'd hardly be able to tell at a glance. While on the topic, the 12-hr bezel with markings for the first 20-minutes is a personal-favorite layout, and the Type I and Type II are some of, if not the first, to employ such a design.
As with the original, the bezel is bi-directional and non-ratcheting, so no clicks to wax poetic about. That said, the bezel provides plenty of resistance and a pleasantly smooth feel, so accidental turning is unlikely, though not impossible. The toothed edge also adds plenty of grip.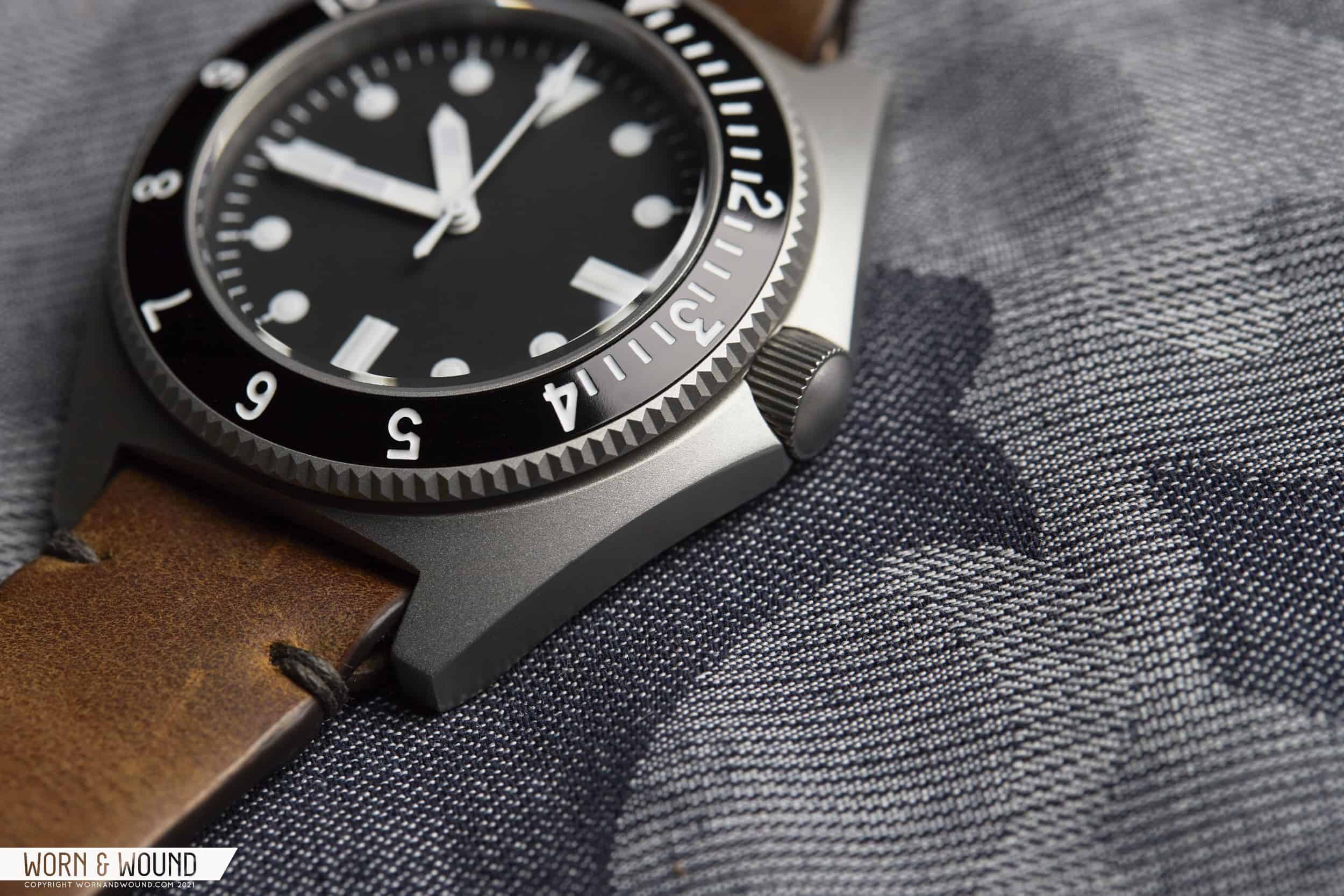 Asymmetrical case
Flipping the watch over, you are met with another set of preserved details. The seemingly permanently sealed case-back features a smooth domed design, which likely adds to comfort on the wrist, and has been laser etched with markings in the style of the originals. This is the only place that you'll find the name Benrus anywhere on the watch. For the limited edition, the date of assembly, as well as the number of the watch (of 1000), are included. "U.S." is etched at the bottom, which is not only accurate to the original design, but is a reminder that this watch is, in fact, assembled in the US.
Those very familiar with the original Type I have likely noticed a small, but conceptually significant difference between the original and the remake: no dimple on the crown. Due to the top load construction of the originals a two-piece stem was used to remove the crown, thus allowing the movement to be removed/installed into the case. The dimple on the crown was there as it indicated when the crown was in position for the stem to come apart. The new Type I, despite not looking like it, actually features a removable screw-in case back, so this two-piece system was not needed.
Laser-etched case back
In speaking with Darius Solomon, Benrus' archivist, I learned that in the process of remaking the watch, they went through an internal battle over little details like this. On one hand, they wanted to stay faithful, on the other hand, they wanted to make a watch that was durable and up to modern standards. The two-piece stem was a place where they felt the design could be improved, as the original allowed for accidental removal of the crown. Without the system, it then didn't seem authentic to have the dimple, as it would no longer have a purpose. Type I die-hards might bemoan this decision, along with the crystal and bezel, but I agree that it makes it a more commercially viable product.
Dial
The dial of the Type I is a study in simplicity. The diver reduced to its most essential elements. There are large markers per hour, with a large triangle at 12, thick rectangles and 3, 6, and 9, and small circles in between, all in white. Though similar to many other iconic divers, the balance is a bit different, with more emphasis on the cardinal markers. An interesting feature is that the lume plots aren't consistently sized compared to the white marks printed underneath. For example, the circles feature small dots with a noticeable border, the rectangles feature narrow lines bisecting the print underneath, with a substantial amount of uncovered area, and the triangle is nearly fully lumed, save a small line on top. All glow brightly thanks to BGW9 Super-Luminova.
A stripped down diver
Unique markers
Curious lume placements
Outside of the large hour markers are thin white lines for the minutes, which get a touch thicker at intervals of five. Beyond this, the dial is empty. A true sterile-dial, there is no branding, no superfluous text, no date – nothing. And it's surprisingly wonderful as such. Though a common trait for mil-spec watches, the lack of branding feels intentional and striking. A bold graphic statement meant to push the eyes only to the indexes creating a void at the middle of the watch, it makes as much of a statement as it's meant to take away.
Gloss white fence post hands make reading the time effortless, going to show that exaggerated shapes are more form than function. The lume application is curious, but refers to the originals. On the hour and minute hand there are a series of rectangles stamped into the hands, two on the hours and three on the minutes. Lume is then applied to only one of the rectangles on the hour, and two on the minutes, leaving an empty spot on both. It's odd, but accurate.
Movement
Powering the new Type I is the ETA 2681. "The what?" you might be asking. Yep, the 2681, an ETA automatic with hacking, handwinding, 25-jewels, date (yes, there is a phantom crown position) a frequency of 28,800bph and approximately 44 hours of power reserve. The reason you likely haven't heard about it is that it's typically used in smaller watches as it's 8.75 ligne or 19.4mm in diameter. For comparison, the 2824 is 11.5 ligne or 25.6mm in diameter. Darius Solomon assured me that they put the 2681 through a battery or tests to make sure it was a solid option for the Type I that would perform well. Also, in use, you can't tell that the movement is small.
a big watch with a small movement
Regardless, this seems like an odd choice. I asked why they used the 2681, and it came down to two things, the first was that using a hacking ETA (vs Sellita or other options) was important to them as the originals were ETA. The second was simply availability. While I'm not in their shoes, I do find both a bit questionable, as I feel that using a well-known and regarded movement that was sized for the watch, like an SW200, would not have taken away from the watch except to perhaps the snobbiest of snobs, who would likely already be put off by the sapphire crystal, no dimple crown, etc. As far as swords to die on, I'm not sure this one was worth it, as there is just something about knowing your watch has an undersized movement in it that is off-putting.
Straps and Wearability
Original Type 1s and 2s had fixed lug bars, as did most, if not all, military-issued watches of the era. The modern watch features spring bars, which should come as no surprise given the other user-friendly changes. With that said, I was still surprised by the strap the watch came on. Rather than a single-pass strap that would have simulated what the originals would have come on, it comes on a very thick, two-piece nylon strap. mil-strap-esque, yet the material doesn't fold back and through the metal keepers. It's of decent quality, but not a strap I found very conceptually or aesthetically appealing. I believe the goal was to allow for the caseback to be easily visible, which seems like a silly thing to sacrifice a strap for, especially as far as enthusiasts are concerned. Additionally, at $1,700, give me the strap that looks right, a gorgeous leather strap, and maybe this two-piece for another nylon option.
The 2-piece nylon that is included
Anyway, after removing the strap and putting in on a single pass, the watch looked and felt right. Green, gray, black, they all look solid. But since it's got spring bars and 20mm lugs, I also tried it on leather, and I have to say, I was very surprised by the result. Without the material underneath, it wears flatter, which is always good, but more importantly, the unabashedly rugged design just looks killer on dark, matte leather. I mean, it is a tool watch after all.
Despite lacking many of the tricks employed to make a watch look and wear smaller, I'm always amazed by how well the Type I wears. Much like a Speedmaster, the diameter describes the asymmetrical extension, so it's a bit of a false dimension. The bezel, which measures 39.4mm, is a better number to go by. Similarly, a portion of the height comes from the domed bezel and crystal, which reads thinner than it would if it was pure case-side, and the case-back domes. And, as is, the mid-case is actually relatively thin, quickly cutting in towards the case-back, avoiding too much slab. In other words, don't be intimidated by the 14.8mm measurement. On my seven-inch wrist, it certainly had a commanding presence, but I never felt like it was oversized or awkward. Actually, I quite liked wearing something a bit larger for a change.
On a single pass
Smooth bezel action
rugged watch on rugged leather
Conclusion
All said and done, I think the new Benrus Type I is a compelling, enjoyable watch and, more importantly, a sign that the brand is getting on the right track. I don't envy anyone trying to bring back an iconic watch that has a cult following, as you're never going to please everyone. On one hand, you have purists who want a 1:1 recreation (though, perhaps a true 1:1 simply wouldn't be available to the public), and on the other you have an ever-growing and ever-pickier group of enthusiasts who are armed with just enough knowledge on the history of a watch to be anal, yet also demand the best specs. In this instance, there needs to be some give either direction.
That said, I do think the movement wasn't the right choice, and less significantly, the strap. This leads me to the real tough pill to swallow – the price. At $1,700, we're just used to more at this point. You can get finely-made and finished Swiss chronometers for less, or tough-as-nails German tool watches. And for something in a similar style, you have the Marathon Navigator, which is supplied to the US Armed forces and costs far less, though is plastic and quartz, and the MKII Paradive, should you be able to find one, which is sort of a next-gen version of the Type I.
An undeniably handsome watch
Sure, American-assembled can account for something, but there are brands, like Vaer, doing that for less as well. Ultimately, I can't speak to their costs, but at $1,700 I don't want the next-best-movement, I want the one I know and trust, which at this point can also be Sellita, Soprod, or Seiko and Miyota, and some really good straps. With that said, if this is the watch you've set your eyes on, and the price is not an issue (it's admittedly the fraction of the price of a vintage Type I at this point), then you'll be happy with the experience of the watch. The Type I is very enjoyable to wear and look at, it's certainly well-built, and Benrus did a great job in recreating the elements that you'll appreciate when glancing down at your wrist. I hope that they take what they've learned in creating this first LE, and bring it to a more accessible version in the future.
Benrus
Images from this post:
The post
Review: the Benrus Type I Reissue
appeared first on
Worn & Wound
.
Continue reading...
Let us know your thoughts and impressions.