Feed from Wornandwound.com .Borealis Watch Forum takes no responsibility for any of the content posted.
This is a review quite some time in the making. It started in March of 2021 when I went a little crazy. Well, watch-crazy, to be more accurate. You know that mental state when you get obsessed with a watch and can't stop looking up information about it, the brand, the movement, comparable watches (to make sure you're correct in your obsession), etc? Yeah, that. Somehow, somewhere, the idea of Grand Seiko's Spring Drive got deep in my psyche, and I needed to get one. Not wanted, needed.
Be warned, what follows is a first-hand account of watch-induced madness. A journey from an idea to an obsession to a purchase. This isn't a typical review but more of a personal recounting of my experiences with a watch I've spent a lot of time with (which, I suppose is what I review is, but I digress). If you're looking for pure stats and objective analysis of design features, this isn't necessarily going to be for you, though there will be plenty of both… you've been warned.
My obsessions don't usually start with the movement. Like everyone else, I generally see a watch at launch or stumble across it while surfing the 'ol web, think "that's for me" and go from there (to be clear, I don't buy most, but you know the feeling). But in this instance, the unique concept of the Spring Drive suddenly clicked in my mind. Although I had known about it for a while, one day it just made sense. The combination of mechanical and quartz for a hyper-accurate movement with a perfectly smooth sweeping hand became irresistible.
In the last few years, my tastes have matured (or, at least, changed) and I've also become increasingly jaded due to a neverending bombardment of new watches (poor me, I know). This has led to seeking new watches for different experiences over pure aesthetics or style, and the Spring Drive seemed to offer something actually new. Sure, it still just told time, but it did so in a way that, behind the scenes (or the display case-back) was different than any other movement. I just needed to try it.
And I did. I reviewed the,
Snow Flake
which was a great taste, but it didn't satisfy my hunger. After all, there is a difference between wearing a loaned watch for review, and owning a watch (perhaps we can call this non-sympathetic state the "reviewer's dilemma"?). When I've shelled out my own cash, it's like everything gets amplified. I pay closer attention to the minutiae. The fit, the feel, the experience. So, I began to pursue curing myself of this obsession through retail therapy and immediately hit a speed bump.
When what you seek is a movement, you end up with a lot of options. I needed direction. As this was to be my first (and at the time, I assumed, only) Grand Seiko, I wanted it to be as Grand Seiko as a Grand Seiko could be. I wanted it all. I wanted a case that screamed Grammar of Design. I wanted Zaratsu polish in full effect. I wanted a dial that showed off their superlative texturing abilities. I wanted that smooth glide of a Spring Drive front and center. And, of course, I needed it to be within budget…
$5200
Owner's Review: The Grand Seiko SBGA375 [VIDEO]
Case
Stainless Steel
Movement
Grand Seiko 9R65
Dial
Midnight Blue
Lume
NA
Lens
Sapphire
Strap
Bracelet
Water Resistance
100m
Dimensions
40 x 46.2mm
Thickness
12.5mm
Lug Width
19mm
Crown
screw-down
Warranty
yes
Price
$5200
Though the spirit of Taro Tanaka's Grammar of Design can be seen throughout Grand Seiko's collection in varying degrees, the case or collection, that stood out to me was the 44GS. Based on the 1967 original (currently celebrating its 55th anniversary, as we've been reminded a few times) its flat, wide Zaratsu polished flanks, limited but deft use of brushing, and overall aggressive styling made it the obvious choice for me. Not only did I find it immediately attractive, but I also appreciated that it felt distinctly Grand Seiko, which is to say that I don't think a European brand would ever come up with this design.
Once the case was settled, I thought I'd be in the clear, but I was wrong. Very wrong. The 44GS case is one of the most widely used in the Grand Seiko arsenal, with models featuring just about every movement they make (less when I was looking, but pretty much everything now). But, finding that dreamed-of mix of Spring Drive with a textured dial didn't seem in the cards (I was a couple of years late for the SBGA387). In the Winter/early Spring of 2021 only two (steel) non-GMT Spring Drives with 44GS cases were available, the SBGA373 and SBGA375 with champagne and midnight blue dials, respectively.
Did I really come all this way for simple, sunray dial? Did I just traverse the mental wastelands of watch-based-desired for no undulations? No lines? No patterns inspired by the subtle transitions of the seasons? Just color and perhaps one of the most overused dial effects on the market? Don't get me wrong, sunraying can look great, but it just didn't seem special. And we all know Grand Seiko can make dials that feel very special.
I decided I needed to see the watches in person, which conveniently I could in NYC. At the then pop-up boutique, I tried on the SBGA375 (I had at least narrowed it down to the blue over the champagne just by personal preference), and several other models in the 44GS line. This is where, like a naive character wandering a forest of a Grimm tale, I nearly went astray. There were temptations abound, but none more than the SBGH279.
An unsung hero, or perhaps villain in this example, of Grand Seiko's current line up, it features a graphite gray dial with a pronounced vertical grain. While not the most exotic texture in Grand Seiko's palette, the overall effect on the subtle gray surface is unlike other watches I've seen. Combined with tall, thin, beautifully finished markers and brushed hands, it's basically perfect as my tastes go. But, it's not a Spring Drive.
Sure, a 36,000 bph automatic regulated to greater than chronometer accuracy is no slouch, and would be unique as well in my, or most, collections… but, it's not Spring Drive. It's still a classic, if refined, mechanical movement with a Swiss-lever escapement. It's not the new experience I really sought, though the aesthetics of the watch were preferable.
Now, to be clear, I also immediately like the SBGA375 too. The dial in person transcends what I expected from a "sunray". The midnight blue is deeper than can be expressed in photos. The graining of the sunray is so fine, it's more of a smooth continuous wave than a ray. In other words, it's still the dial of a luxury watch. The SBGA375 also had the benefits of being .8mm thinner and costing $900 less.
After much hand-wringing, sleepless nights, and lonely walks down dimly lit park paths (this is all a joke, btw), I decided to fight my impulsive self. The voice in my head that is lured in purely by pretty things, and go with my gut, which said "stay true to what brought you here." And thus, with some hesitation, I went for the SBGA375. And man, am I glad I did.
Case
A Grand Seiko in its unworn state is a thing of surreal beauty. Unblemished Zaratsu polished surfaces are unlike other polished surfaces you've likely encountered. Their reflections so clean and crisp they seem like windows into a world, not hard surfaces. Only once hairline scratches and the detritus of daily life begin to build up do you get the sense that there is indeed a surface, or perhaps a barrier, there. I apologize for not having had the foresight to photograph the SBGA375 in its first few days of life, though the honesty a year and a half of steady wear is perhaps more suiting a review.
While Zaratsu polishing is present on many Grand Seiko models, the 44GS case is likely its best showcase. From above, the case appears as though it's two wings compressing a central dial structure, the gaps between them forming a space for straps. These wings are wide and aggressive, flowing out past the edge of the bezel, increasing the width of the watch. These surfaces, though angled down and curving around the case, are flat, allowing for a broad swath of Zaratsu polish. I don't believe any other Grand Seiko case has this much Zaratsu polished surface area, and the effect is striking. That none of the surfaces point right at you prevents reflected sunlight from blinding you outside (near stander-bys might not be so lucky).
It's spoiling too, as all other polished surfaces will be judged against it once it's in your watch box. The subtle undulations of imperfect cases might have not stood out before, but they will begin to. Consider this a warning. Finishing is often cited as one the greatest differences between obtainable watches and those that are out of grasp for most. Grand Seikos offer a level of fit and finish throughout that can leave you wondering why some watches cost what they do.
The Zaratsu polishing isn't the only brilliant aspect of the case, in fact, its success is really a reflection of the complex geometry at play. The 44GS case is one that can be taken in at a glance, there are no tricks like hollowed-out spaces or overly complex constructions, yet its subtleties reveal themselves slowly: the way surfaces meet, the near lack of vertical surfaces, the gentle curves, and tapers throughout.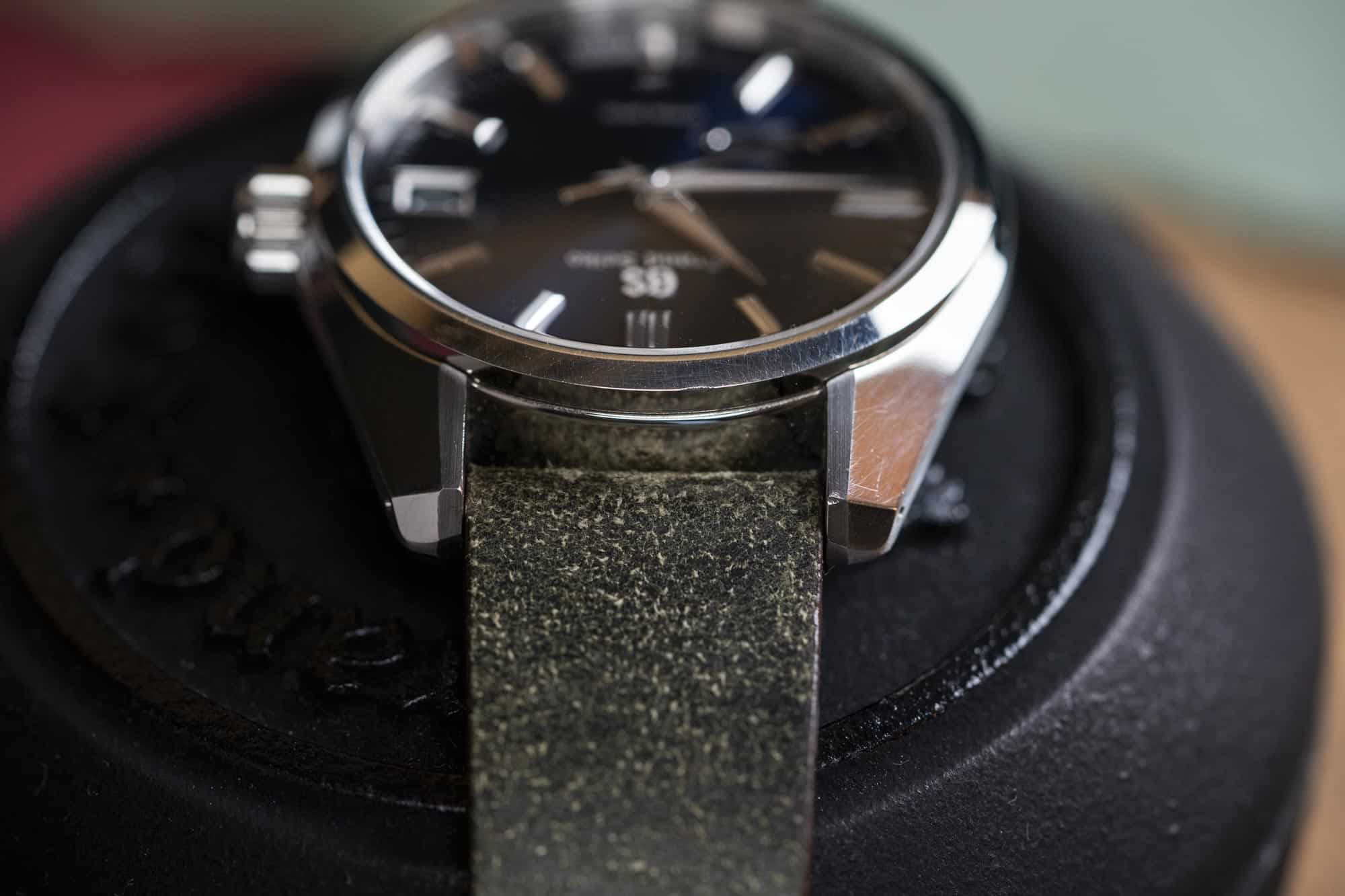 Some examples: the wings gently raise past the bottom line of the bezel creating a cresting wave, before leveling out. It's a tiny moment I adore as it breaks the otherwise rigid lines. More visible, however, are the clusters of facets where everything meets at the tips of the lugs. There are six facets, each intricately shaped and finished, coming together like a steel gem. These are details that are executed by hand and as such are marginally different from each other adding a wabi-sabi appeal. Spoiled, like I said.
Typically, polished chamfers are used to accentuate case lines and contrast brushed regions, but on the 44GS case, it's the opposite. There are two areas of brushing on display. One runs along the side of the watch. A thin band that is the only vertical surface on the watch. The lovely graining prevents the side from reflecting back at you, bisecting the top and bottom surfaces which quickly recede away.
The other brushed surfaces are in a more unexpected location, the interior edge of the lugs. Creating vertical lines that cut straight through the dial, this band of brushing is actually a series of complex surfaces that wrap down the lugs, resolving the angles of the surfaces. A vestige of the original 44GS, which had connected lugs, this is literally the only case I can think of with such a detail, and it's utterly gorgeous.
I could go on about the details of the case (drilled lugs, deep logo on crown, etc, etc), but considering I haven't even talked about the size of the SBGA375, I should get back on track. Coming in at 40mm x 46.2mm x 12.5mm, the 375 has the proportions of a medium-sized sports watch. When I first considered it, I was a bit hesitant about the size. I wanted this watch to be on the more formal side of the collection. After all, it was very polished, had no lume, a serious demeanor, and was, frankly, expensive. As such, 40mm and 12.5mm sounded too big.
This was likely a misunderstanding on my part, as the 375 is a robust watch backed by a 100m water resistance, featuring a nearly oversized screw-down crown. It just has a more conservative style to it. It's reassuringly solid and meant as a daily watch (which it became). Once I put it on, however, I just didn't care. It's not a small-wearing 40mm, nor does the 12.5mm thickness really disappear (the lack of vertical walls does help it visually and ergonomically), but it's well proportioned, which is what matters most. As a thing unto itself, it makes sense, and on my wrist, it still fit well. I'm lucky the new 36.5mm version didn't exist yet, as I would have been fighting off another serious temptation.
Case: A Year and a Half Later
The downside to a lot of perfectly Zaratsu polished surface area is that getting a scratch is not an if, but a when. I say "downside" as there is an undeniable, if Sisyphean, desire to keep a new watch perfect. But, as Zach Kazan discusses in his article The First Cut is the Deepest (which features several photos of my beloved 375), it's going to happen and it's more about what happens next. One day, I looked down, and there it was. A line across the bezel around 6. Plain as day. There. It was done.
I stared at it for a day or so, but then my brain moved on, and frankly, I stopped caring as much about the watch, in a good way. I could just enjoy it. Over the next several months, I continued to wear the 375 with great frequency. I'd go so far as to say that it was my most worn watch for quite some time. And in that time, I collected a lot more scratches, many swirls, a pronounced scuff, and even one dent. I don't recall what created a single one. They just accumulated through daily wear. The way in which I live my life created those marks. And I'm fine with it.
Sure, there is a beauty in the untouched perfection of a new Zaratsu polished surface. It's like an unspoiled landscape, hidden from human eyes. Once it has been seen, perhaps the very act of observing it begins the process of changing it. Dare I say, it's too perfect? A type of perfection that can only exist in a vacuum? Perhaps it's healthier to think of it as a blank canvas. Untouched, but meaningless until marked.
No matter how you look at it, the beauty of the watch has not declined because of these scratches. Sure, the resale value might have, but this one's a keeper. In most light, the Zaratsu effect is still in full, and still gorgeous. The level of craftsmanship, fit, and finish is still as high as on day one. And, frankly, it's nice to know the watch can take some hits and be unaffected. Grand Seiko builds watches for everyday wear, from the inside out. This might result in watches that are on the thick side, but it's for a purpose.
Dial
Compared to the case the dial of the 375 is quite simple, yet it contains many subtle details and a similar level of exceptional finishing. The surface is a single plane of impossibly deep midnight blue. Indoors, it looks like a gloss black that occasionally picks up a hint of blue from its surroundings. As you get into stronger lighting, the blue grows in intensity, maxing out in direct sunlight where it's a vibrant navy blue. The sunray texture/effect is similarly restrained. It's imperceivable in dim light, grows to a faint band in medium, diffuse light, and then a strong ray in direct light. It might not be the most unexpected dial in history, but it's gorgeous and executed to a level that exceeded my expectations.
Perhaps a benefit of the lack of a signature Grand Seiko texture is that the dial furniture has less to compete with. The hour markers are long applied blocks with polished, faceted edges, and what appears to be a brushed or otherwise diffuse top surface. This is one of the neatest tricks on the watch, and is only visible with a loupe or macro lens. The top surfaces of the markers feature several incredibly fine lines that are not visible with the naked eye. At times, the graining creates a slightly pearlescent effect, but only in the right lighting.
Grand Seiko has logic to everything they do, and these markers, while very pretty, are also designed for contrast and to catch light. On dark surfaces, Grand Seiko uses brushed surfaces on markers and hands to appear bright. On light surfaces, they use polished surfaces, which tend to appear dark (it's called black polish for a reason). The polished bevels create highlights, outlining them for visibility, while the surfaces, somehow, seem to always be brighter than they should be, finding light to reflect. The result is a dial without lume that is legible in all but complete darkness.
Between the markers are thin silver lines. Simple, purposeful. Below 12 is the "GS" applied logo and Grand Seiko text, printed in silver. This model is of the post "double stamped" dial generation. Above six in small caps "SPRING DRIVE" is printed. Unoffensive, but also unneeded.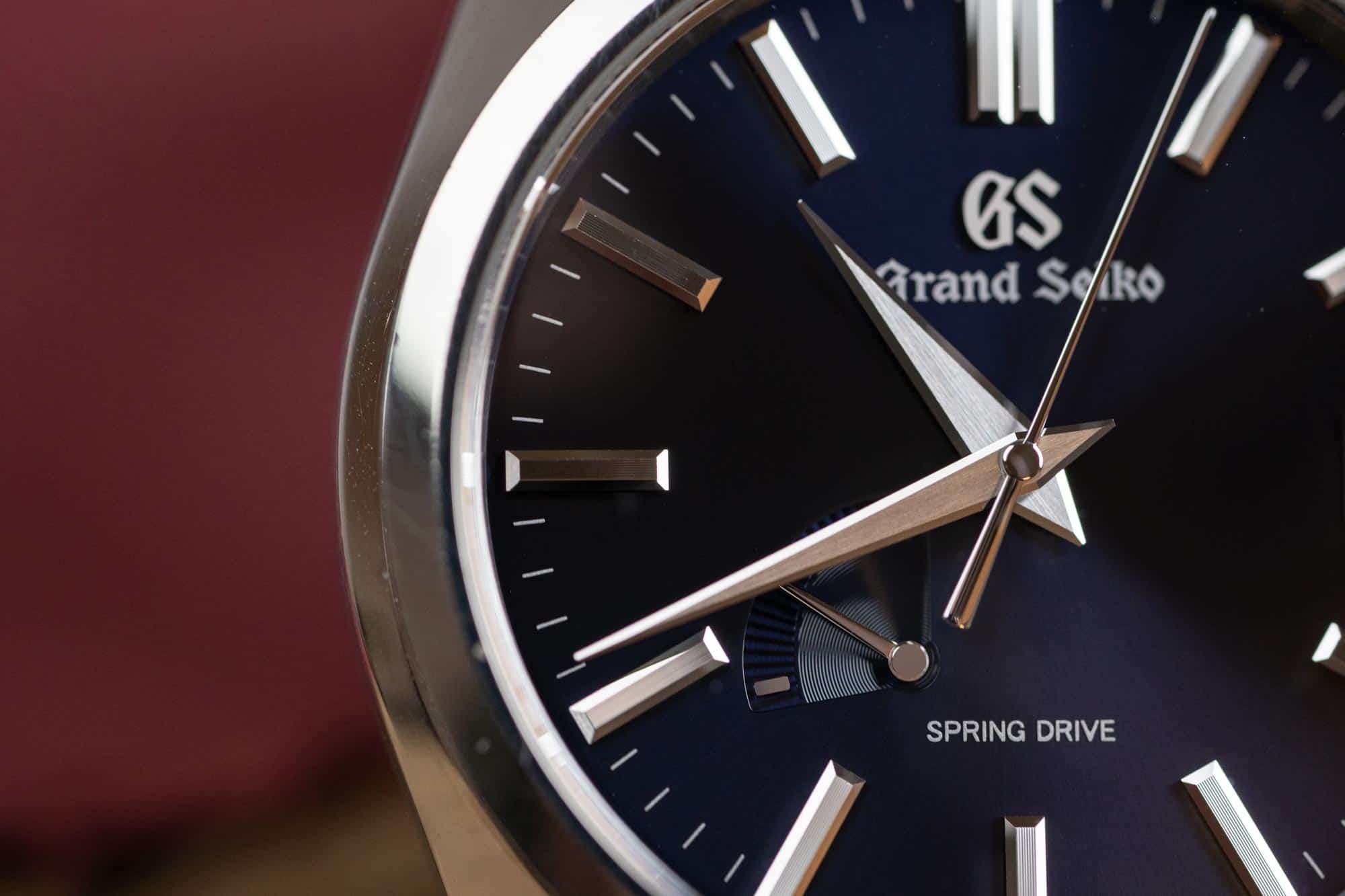 At three is a date window with a polished and faceted frame. It's well executed, but not special like the markers. There's no denying the utility of a date, and there was no getting around it as date-free Spring Drives are few and far between (they do exist, however), but the purist in me initially revolted against it being there. This plays into my original notion that the 375 would be more of a special occasion watch than a daily wear. I quickly got used to it being there and even began to appreciate it.
There's also a power reserve just off of seven. Oh, didn't notice it before? Yeah, it's there

. Kidding aside, I know the Spring Drive power reserve is a contentious topic. I've vacillated on it myself, depending on the model. On the 375, I think it adds to the watch's overall sophistication. The uniquely shaped cutout, which always makes me think of seashells, doesn't disturb the dial, as it's just an even, flat plane of deep, dark blue. There is texturing within, which serves as a visual representation of how much power is there, but it's tonal, only coming out when light hits. Moreover, as part of my collection and my desire for different experiences, the 375 is somehow my only watch with a power reserve, making it just a bit more special.
Grand Seiko's hands are yet another point of brand differentiation. In terms of design, they aren't breaking any molds, but in terms of finishing, they are top tier. The hour and minute hands are flat dauphine style in slightly different proportions for obvious reasons. They're thick pieces of metal with polished bevels and brushed top surfaces. They are exceptionally well finished. You can take a loupe to them and you won't find an imperfection or tool mark. And, as with the markers, the finishing is functional as well. The brushing makes them bright against the dial, always standing out.
The seconds and power reserve hands are far simpler, but still well done. In particular, both feature caps over their pinions, covering up the hole typically found. A detail I never paid attention to, it now seems unsightly on other higher-priced watches. Not only did Grand Seiko spoil me, it might have made me a snob too (j/k).
What the 375 dial lacks a texture, it makes up for it in refinement. It's clean, classic, and reserved. Every detail is well considered and has nuance that can be missed upon quick inspection. As I've lived with it, I've grown to appreciate its versatility. A texture might be exciting, fun for Instagram and to show off, but a simple deep blue dial, like a blue blazer or blue jeans, requires no effort.
Movement
The SBGA375 is powered by the 9R65 Spring Drive caliber. I wrote about this caliber in length when I reviewed the
Snow Flake
, and we have a whole article and video just about how
Spring Drive
works. For the technical details, check them both out. For this review, instead, I'd rather cover my experience with wearing a Spring Drive powered watch consistently for over a year and a half.
I'm not actually a stickler for accuracy. If a watch I have is very accurate, I appreciate it, but if a watch I have is just average, that's fine too. If it's very off, then something is wrong, that's a different story. What I am a stickler for, however, is a watch living up to its claims. Sell me a chronometer, it better be within chronometer specs.
My interest in Spring Drive was two-fold. First, that it was a completely different mechanism, though still a mechanical watch in most senses. No traditional escapement, no balance spring, no ticking. Instead, it used very modern concepts to do essentially the same thing, unlock the potential energy of a wound spring in a very precise manner. That's just cool.
But, what's cooler is that they didn't invent and refine Spring Drive over decades before launching it just to be different, they also created a far more accurate movement. So, in the case of owning a Spring Drive, which is accurate to ±1 second per day (±15 seconds per month), the accuracy is very much a part of the joy. When I first set the 375 to time.gov, I hacked it at 60 as precisely as I could, set the time, and watched over days, and weeks, as the time on my computer changed at the same time the second hand on my watch swept past the top marker. It brought a smile to my face each and every time.
To be fair, it's actually about as accurate as a normal quartz watch, and not even close to a high accuracy quartz / HAQ (including Grand Seiko's 9F), but it does so without sacrificing the
jean ne sais quoi
of a mechanical movement. It might be subtle, but my goal in finding a new experience was achieved. The elegance of the true smooth sweep of the seconds (it's not a fast tick, it's an actual glide) adds something ethereal to the experience as well. Time doesn't move in clicks, it's constant, which is reflected here. It's a refinement befitting the finish of the case and dial.
As an aside, I reread
Longitude
by Dava Sobel at the beginning of this year. I highly recommend it for any watch nerd as it's simply enjoyable, but also helps put how spectacular modern watches are into perspective. To paraphrase a moment that stood out, creating a reliable method of determining longitude at sea was a comparable technological leap to what curing cancer now would be. And yes, lives were at stake. The solution, of course, was a highly precise timekeeper that could withstand the toils of a journey at sea… The Spring Drive is magnitudes more accurate, and while I didn't sail across the seas with it, I have a feeling it would have managed just fine. It's easy to take it for granted, but when I take the watch off, flip it over and see that glide wheel spinning along, I do try to stop and appreciate just how profound it really is.
Straps and Wearability
The SBGA375 comes with a bracelet. You don't see it in any of the photos because I don't wear it. It's perfectly nice if you like Grand Seiko's bracelets, but to me, the 44GS case is meant for straps. The bracelet just doesn't click with the flat wings I love so much, which are, frankly, better emphasized when there is a gap between them. As such, I took the bracelet off immediately when I got the watch, and never looked back.
The 375 has 19mm lugs, which just is what it is. At this point, I've amassed enough 19mm straps that I can deal with it. Otherwise, it's a strap monster. More so than I even expected. Rugged straps, refined straps, various colors. It takes to them all. I've even put it on 19mm mil-straps and frankly love how it looks. It's such a versatile watch that so long as you don't clash with the blue, which is difficult as it's so close to black, you're good. Green, brown, taupe, khaki… all regulars on my 375.
As I mentioned before, when I first saw the dimensions of the 375 (really all 44GS cases until recently) I was less than thrilled. I prefer smaller watches. 38mm is a sweet spot for my wrist, particularly for everyday watches. Divers, chronographs, and other more rugged types of watches I can tolerate to 40 – 41mm. Of course, these rules are stupid, and as we've written about before, numbers don't account for everything, but it's hard to ignore them as at least a guiding light.
The 375 is a curious watch because it wears very well, but not smaller than 40mm x 46.2mm x 12.5mm sounds. Not at all. The dial is big and open, the wings are wide and heavy. It's a lot of metal. Conveniently, the lug-to-lug is very tolerable at 46.2mm, so it feels centered well on my wrist. But while reserved aesthetically, it's fairly bold on the wrist. It's not thin either, but the lack of a vertical wall, and curves that allow the wrist to flow around it, help manage it. What matters is, I like how it looks and feels. It's bigger than I thought I'd be, but here we are and I love it. Cats and dogs, living together, mass hysteria.
Conclusion
This was probably (definitely) an unnecessarily long review with a lot of details that don't matter to most, but I figured, if you're about to potentially embark on a similar journey, seeing my path and the logic that led me down it, could be of some help… or at least worth a laugh or two. The Grand Seiko SBGA375 is a watch worthy of poring over. For one thing, Grand Seiko is a brand that has become a bit over-defined by its limited editions. The SGBA375 is a core model. It's available and doesn't seem to be going anywhere (famous last words, I know).
For another, it's just a very pure expression of what makes a Grand Seiko special. Zaratsu polish, superlative hand and marker finishing, a confident and reserved demeanor, a design guided by the Grammar of Design, and, of course, a hyper-accurate Spring Drive movement. Sure, it lacks a texture, but I dare say, it's more versatile for it. More timeless (if timeless were a thing that scaled). To make the blue blazer and jeans comparison again, the midnight blue dial is just something you can always turn to.
Another factor that is always to be considered is, of course, the price. While there are consistent grumblings over Grand Seiko's prices inching up year by year, they still offer a fantastic value in comparison to their competitors. The SBGA375 is $5,200 (at time of publishing). A significant amount of money by any measure, but on a watch where you can easily point to its outstanding features from hand-executed case finishing (yes, Zaratsu uses a polishing machine, but guided by hand) to a novel, truly in-house movement with unmatched accuracy. I can't help but feel like a Swiss watch that took the same amount of effort to make, with a movement decades in the making, would be significantly more.
Grand Seiko
Images from this post:
The post
Owner's Review: The Grand Seiko SBGA375 [VIDEO]
appeared first on
Worn & Wound
.
Continue reading...
Let us know your thoughts and impressions.