Feed from Wornandwound.com .Borealis Watch Forum takes no responsibility for any of the content posted.
Grand Seiko is known for many things, from their case finishing and dial textures to their Spring Drive and hi-beat movements, but also for making some rather large sports watches. Maybe that's the wrong note to start on, but it's true. Though models like the SBGC231 Spring Drive chronograph and the SBGJ239 hi-beat GMT are both gorgeous, they are also north of 44mm, so fairly designated as "big" watches. Well, in the fall of 2020, Grand Seiko began to address this with a trio of sports watches with trimmer dimensions, the SBGE253, 255, and 257.
With 40.5mm diameters, these models fall in far more wearable terrain, and nearly a full 4mm narrower than the previous generation of the same line (SBGE). Despite the decrease in size, they feature 200m of water resistance, fixed ceramic bezels, and, most notably, Spring Drive GMT movements. Clearly, these are still very capable, versatile, sport-travel watches that, with crowns down at four, still read very much as Grand Seikos. Available in black, blue, green and eventually a brown LE, these seemed to satisfy a desire from Grand Seiko fans, and were immediately met with adoration.
The Grand Seiko SBGE255
With the finishing one expects from the brand, and a better fit (though more on that later) the question I found myself asking with the SBGE255 wasn't whether or not I liked the watch (spoiler, I did), it's really what the purpose of such a watch is, especially compared to other watches in their catalog that showcase much the same features, and how it would fit in a collection. Additionally, with a price tag of $6,200, if this would be my go-to for a robust, sport-travel watch.
$6200
Review: Grand Seiko SBGE255 Spring Drive GMT
Case
Stainless Steel and Ceramic
Movement
9R66 Spring Drive GMT
Dial
Sunray Blue
Lume
Yes
Lens
Domed Sapphire
Strap
Steel Bracelet
Water Resistance
200m
Dimensions
40.5 x 48.5mm
Thickness
14.7mm
Lug Width
20mm
Crown
Screw-Down
Warranty
Yes
Price
$6200
Case
The word "athletic" comes to mind when looking at the SBGE255 (255 from here out). Though only 40.5mm in diameter, which to me is still in that Goldilocks zone, especially for a sports watch, the watch has an undeniable muscularity to it. The lugs are broad and long, and the bezel is wide. It's actually a bit hard to believe it's as small as it is, as it looks like it should measure larger. Moving the crown to four, a bit of Seiko/Grand Seiko signature, is the only detail that reduces the diameter visually.
Nothing like those Zaratsu lines
With a lug-to-lug of 48.5mm, it's verging on long, but the lugs curve down enough to compensate. It's also 14.7mm thick. Not much compensation there, it looks and wears tall, which is my biggest complaint about the watch. Grand Seiko does add a taper to the sides, which helps a bit, as does the bevel under the bezel (alliteration not intentional), but it still stands high off the wrist. The full ceramic bezel, while a gorgeous detail, only makes the watch look taller, as it's like a little blue hat on top.
While on the topic, the ceramic bezel is a unique and highly appealing detail to the watch, besides the height concern. Sure, ceramic bezel inserts are fairly common these days, but fully molded (or cast, as it might be) ceramic bezels are less so. Yes, a certain Rolex comes to mind, but not much else. The edge-to-edge color is striking, and being able to see blue from all angles, as there is no metal container to obstruct the view, adds to the luxurious appeal of the watch.
Exceptional Brushing
You can't talk about a Grand Seiko without talking about finishing, and as should be expected, it's top-notch on the 255. The solid steel case features beautifully brushed surfaces on the tops of the lugs that have a noticeable and attractive texture. The outer top edge of the case then features a zaratsu polished bevel with perfectly sharp edges and an impossibly clear black mirror surface. The sides are fully polished as well, though to a lesser degree from what I can tell (they aren't flat, so I don't believe it's zaratsu).
The case-back is solid steel with a nice etching at its center of the Grand Seiko Lion and logo. Given the unique movement inside, I am a bit torn as to whether or not I wish there was a display window. On one hand, this is a 200m sports watch, and a window is a potential point of weakness. On the other hand, it features a nicely finished movement that is enjoyable to look at, especially given that it's a Spring Drive, and therefore unlike other movements in your collection.
Beautiful Blue Ceramic
Dial
Though many Grand Seikos feature heavily textured dials inspired by nature or craft, the 255 has a fairly straightforward design. The dial surface is a medium blue sunray on which you'll find applied markers per hour and printed white marks for the minutes. The markers are the star of the show here, with larger tapering shapes at cardinal positions, each with a strip of Lumibrite, and long thin rectangles between, save at four where there is a date window. The layout creates a subtle crosshair effect that adds to the sportier inclinations of the watch.
Blue Sunray dial
Beyond the layout, what makes the markers special is that each has been finished to a remarkable degree. They are faceted and have polished edges while the top surface features lateral grooves that are so fine they can only be seen with a loupe. The result is that they appear as some magical mix of matte and reflective, that breaks up light, often creating a pearlescent effect. Nothing short of stunning.
Additionally, on the dial surface, you'll find an applied "GS" logo over the Grand Seiko wordmark below 12, "Spring Drive" and "GMT" over 6, and a power reserve adjacent to 8. A sometimes controversial element, here the reserve is a printed arc in three colors from dark blue to white indicating empty to full respectively. Given that the dial doesn't feature one of GS's exotic textures, I don't find the power reserve disruptive. That said, the watch does have five hands, which is quite a few.
A great mix of textures
Highly detailed Markers
Deep Chapter Ring
Date at four
The date window at four is likely also to cause mixed reactions, and I am also a bit torn by it. I like that it is inline with the crown, that it doesn't replace or alter one of the larger markers, and is a design element that also feels "sporty," though for no logical reason. This also is a watch that should have a date, given the travel implications of the GMT. But I don't like how unfinished it looks, which leads it to feel a bit jarring. It's just a square window showing a white disk with black text, which is all very standard and basic. As such, it just feels like it's missing something. The SBGA211 "Snowflake" (
reviewed here
) has a nicely finished window, for example. And while GS doesn't appear to ever color-match their date wheels, they do vary between black and white on Spring Drives, and even have a silver disk on some hi-beat models, which would have looked nice against the blue.
Around the edge of the dial is a near-vertical chapter ring with a 24-hour index, only showing the odd numbers. It's split between dark blue with silver text, and the opposite, presumably along day/night lines (6 to 18). This is a feature I quite like about the dial. When looking straight down at the watch, you barely even really see this element, particularly the blue half, rather it serves as a transition from the dial to the bezel, becoming more visible at low angles. The bezel also has a 24-hour index, but only with even numerals, combining with the chapter ring for a complete index.
the tonal blue GMT hand
The last thing to touch on is the hands, which are another element that GS are known for. Though based on the razor-sharp alpha-style hands their dressier and heritage models use, these are modified for a sportier, bolder look, and are remarkably complex. Imagine their alpha-hands, now blunt the point at the tip, and the base. The edges are beveled, but only the long portion. This is a bit hard to see with the naked eye, but it's one of my favorite details. Add in lume plots, brush the top, perfectly, and then polish the edges, also perfectly, and you have the hours and minutes. The seconds and power reserve hands are then fully polished and relatively simple, though both feature caps over their respective pinions, which is a nice touch.
The GMT hand takes a more classic approach, with a large lume arrow at the top of a stick, colored in a gloss aqua blue. In general, something I don't often love about GMTs is that the namesake-hand is often in some bright, garish color, taking a majority of the attention, even if it's not something you are not really referring to on a daily basis. Though still brighter, I appreciate that GS went with another shade of blue, as it does the job of standing out, but not too much.
Movement
Inside of the 255 is the 9R66 Spring Drive GMT. That might seem like a simple sentence, but there is a lot to unpack here. So much so that I'm going to defer to the post we made specifically about Spring Drive movements for an in-depth explanation. Check that out here, then come back. If you're in a rush, here's the elevator pitch: rather than your typical mechanical escapement, Grand Seiko's / Seiko's proprietary system of a glide wheel and their "Tri-Synchro" regulator do the job. Instead of locking and unlocking (ticking), Spring Drive applies an electro-magnetic brake to an otherwise free-spinning wheel, the rate of which is regulated by a quartz oscillator and IC. The result is a movement with a traditional mainspring and gear train, but the timekeeping of quartz. As such, it has accuracy within one second a day, a perfect, smooth sweeping seconds hand, and a generous power reserve of 72 hours.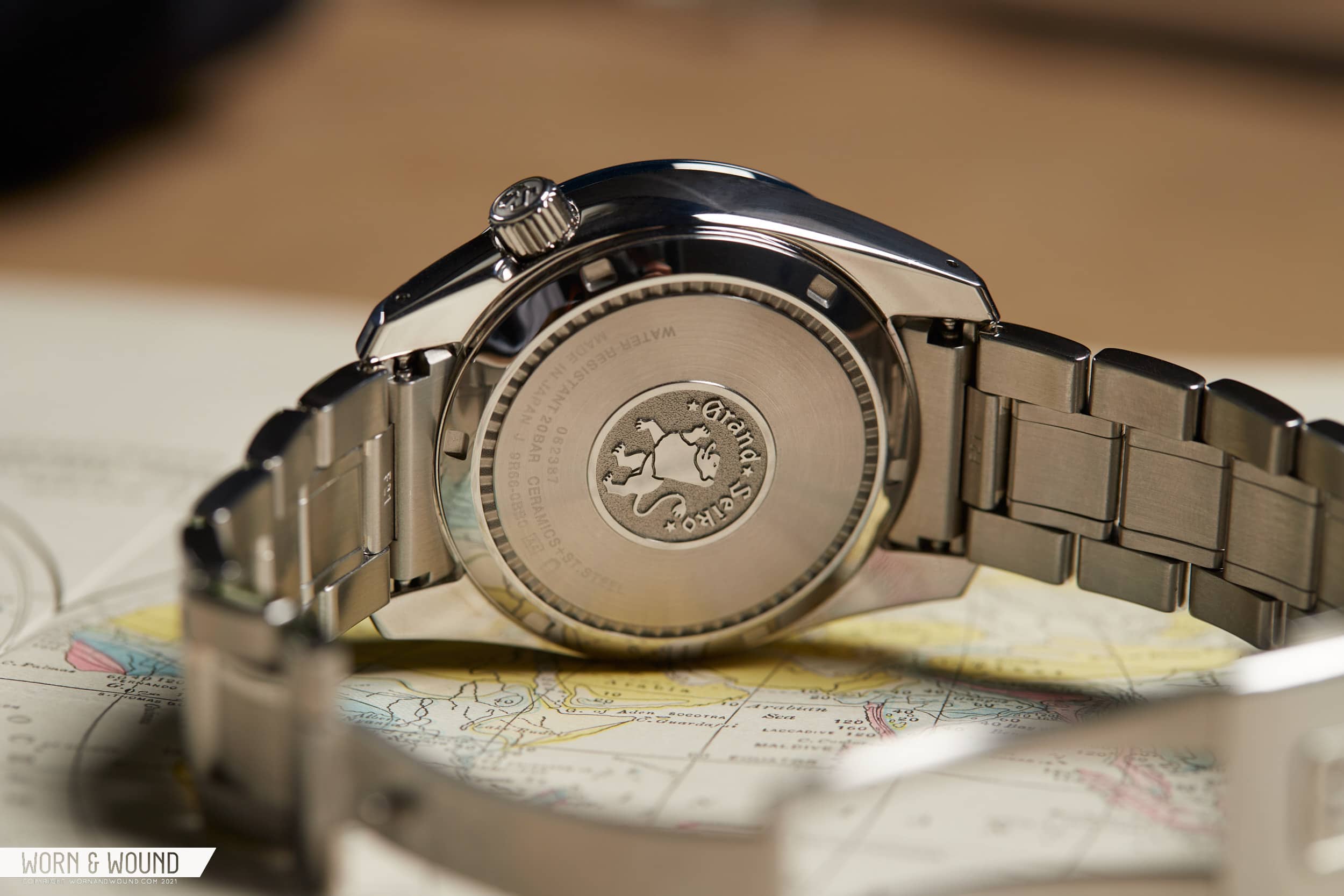 Inside is the 9R66
The 9R66 variety adds in "true" GMT functionality, meaning that with the crown in the first position, the hour hand (not GMT hand) is adjusted by jumping forwards and backward in one-hour increments. The idea here is that that is your local time, and the GMT hand is set to your home time. This achieves two things, first is simple convenience when traveling as it's easy and fast, and the second, which is particularly important with a Spring Drive, is that the movement doesn't have to stop, nor does the minute hand need to be adjusted, thus the accuracy of the watch is maintained. The date is also set by advancing the local hour hand, which is normal on movements of this type, though less elegant than a classic quickset date.
Straps and Wearability
The 255 comes mounted to a steel bracelet with a five-link design featuring two thin polished links flanked by three wide brushed links. It tapers from 20mm to 19mm, though the clasp is 20mm, so the taper is fairly negligible. Overall, it's a well-finished and attractive design that suits the watch well enough, if a touch blingy and wide, but is a design GS uses across various lines so it lacks something special. I did try the watch on other straps but found that it was best on the bracelet. Mil-straps add too much to the height, and leather straps look lost in the tall lugs.
Sporty clasp with micro-adjust
On the wrist, the 255 fits, well, differently depending on how you look at it. On one hand, the 40.5mm diameter is great. It just feels like the right size for a modern sports watch. As said before, it's muscular, which is to say, kind of bold and beefy, but in a good way. Though not big, it reads as rugged, husky even. The lug-to-lug at 48.5mm is still within tolerable limits, and I felt it fit my wrist well. But on the other hand, at 14.7mm, it's a thick watch, and it wears thick, and while wearing it, I never forgot it was thick.
This leads me to a question. Why not make this model titanium? GS uses high-intensity titanium fairly regularly. It's bright like steel and highly scratch-resistant, while also being 30% lighter. They use it on the Snowflake, which I felt went a long way towards making that a very wearable, and comfortable watch. Now, this wouldn't change the height at all, but if it were much lighter, I think the thickness would be negated, at least somewhat. Not literally, as your cuff doesn't care, but psychologically, I think… Maybe.
40.5mm on a 7-inch wrist
In terms of style, the 255 is definitely an attractive, sporty, modern watch. It's not subtle, but it's undeniably appealing. The wide numerals on the bezel combined with the sparkling applied markers below create a unique contrast, and the deep blue ceramic adds color in a cool way that I'm, frankly, not used to, as typically color is contained beneath the crystal. This makes it more a part of the watch as a whole.
The blue of the dial is nice, but sort of non-committal, if a color can be such a thing. In a world where blue dials are plentiful, I want ones that make a statement, that are memorable. This blue is perfectly palatable, but it's not like the subtle blue-grey of the SPB149, which never ceases to amaze me. Nor is it the deep, enamel-like midnight of the SBGA375 (owner's review forthcoming… eventually), which has an almost magical depth. Rather, it's just blue. A classic blue, perhaps, but not one that will keep me up at night.
Concept and Competition
In the intro, I mentioned that while I liked this watch, and I really do despite a few criticisms, I do find it a bit conceptually confusing. Perhaps this is just a reviewer's dilemma as the simple answer is "it's a watch, stop thinking about it and just wear it" but for the sake of argument, here are my issues. First is that despite being a sort of general-purpose, travel sports watch, it wears like a dive watch. Heck, a thick dive watch at that. For me, that's a specific slot in my watch box, one that I'd reserve for something a bit more aggressive and toolish, perhaps even eccentric, as I'd likely not wear it all that often. The 255, and its siblings are, to me, meant to be daily-wears, so that doesn't quite jive.
The SBGN005
The other is the price, which I've yet to cover. The SBGE255 is $6,200, which is a very substantial amount of coin. It's a hard watch to determine the value of a GS Spring Drive GMT as it is so its own thing, but an attempt can be made within the GS family. If you're looking for a highly accurate true GMT with a sporty style, the SBGN00X models get the job done at almost half the price of $3,200, with the same level of finish, and a thinner case at 12.1mm. Yes, these are 9F quartz models, but that actually means they are even more accurate than the Spring Drives, and by quite a margin (within ten seconds a year vs fifteen seconds a month).
If Spring Drive is what matters, which I totally understand as it's unique, and you want a watch for everyday wear, then the SBGE227 or one of the new Seasons watches, such as the SBGE271, could fit the bill. They don't cost much less at $5,600 and $6,000, and they aren't much thinner at 14mm, but the narrow lugs and rounded sides of the "elegance" case would lead to a smaller presence on the wrist. There's also the SBGE211, which fits the same bill.
The SBGE271
If what you're looking for is both a Spring Drive GMT and a rugged tool watch, the Prospex SNR033 (and others from that series) are worth a gander as well. "Zach, you're crazy," I'm sure some people are saying, but hear me out. Sure, these are back up in the huge watch territory at nearly 45mm, but they are the same thickness at 14.7mm, and these ones are fully titanium with hard-coating, meaning they likely feel better on the wrist than expected, and are hard to scratch. Sure, these are $5,500, so not much savings, and they aren't finished to the level of a GS, but as a watch for that less-worn, thick-tool-watch slot, these have more of that exotic look. And, I might argue, who needs such great finishing on a tool watch?
One more, and I'll make it quick, but for a budget (only by comparison) option, the new Presage SPB217 Sharp-Edge GMT (and family) is truly worth considering. Not only is it quite similar at a glance, but it's also a true GMT. Yeah, it's not finished like a GS, and the movement is not nearly as accurate, but at $1,400 it's a great looking and unique watch that might just scratch a similar
Conclusion
an undeniably handsome watch
At the end of the day, the Grand Seiko SBGE255 is a very solid, well-finished, and quite attractive sports watch with a unique movement and true GMT functionality. If the thickness doesn't bother you, and you're in the market for a $6,200 watch, then I think it will make you very happy. Sure, there are other options, particularly from within Grand Seiko and Seiko, but there also isn't anything exactly like it, and the ceramic bezel is particularly sexy. Ideally, at some point in the future, GS will make a slimmed-down version of the Spring Drive GMT, and a watch like this can be closer to 10 or 12mm, but until then, which is a day that might never come, the SBGE255 and others in the series are compelling luxury sports watches with better-than-mechanical accuracy.
Grand Seiko
Images from this post:
The post
Review: Grand Seiko SBGE255 Spring Drive GMT
appeared first on
Worn & Wound
.
Continue reading...
Let us know your thoughts and impressions.