Feed from Wornandwound.com .Borealis Watch Forum takes no responsibility for any of the content posted.
The Victorinox I.N.O.X. Mechanical belongs to a very specific category of watch that I like to call the "Giant Hunk of Metal" watch. Some other hits from genre include the Seiko Monster, various all metal G-Shocks, and the Omega Seamaster PLOPROF. When someone says the words "wrist presence," they're thinking of watches like this. They have a heft that's satisfying, an often times aggressive look, and are generally built like tanks. The quartz version of the I.N.O.X. has been around for awhile, and is another proud member of this group, but the mechanical version gives an altogether different impression.
The very first thing you notice about the I.N.O.X. Mechanical is the weight. When you pick it up and hold it in your hand, it's obvious that that this is indeed a "Giant Hunk of Metal" watch, and not a watch that's simply posing. We've all had the experience of picking up a watch, and thinking it feels flimsy or otherwise poorly made. Not so with the I.N.O.X. There's a density and overall feeling of quality to the case that makes you think it could survive almost any impact, or even cause a fairly substantial one of its own.
The pattern on the dial evokes the handle of a Swiss Army knife.
This would be a good time to mention that while the I.N.OX. Mechanical's quartz sibling is "certified to withstand 130 extreme endurance homologation tests," no such claim is made about the mechanical version. You might recall the promotional materials for the quartz I.N.O.X. show the watch being tossed off buildings, run over by heavy vehicles, and generally abused, all to show that the watch is robust enough to withstand not just Victorinox's tests, but also, apparently, a literal war zone. A mechanical watch, naturally, is going to be more fragile than a quartz timepiece. It's all those moving parts, plus the fact that the parts, when moved even a little, have a significant impact on the watch's ability to keep time accurately, let alone run at all.
Victorinox taking the steps to release a mechanical version of their quintessential indestructible tool watch is interesting in its own right, apart from the watch itself. The I.N.O.X. is a purpose built tool – the quartz timekeeping is as much a part of its identity as the thick slab of metal that makes up the case. I think it speaks to the growing of the enthusiast segment within the watch space that Victorinox would even consider putting a mechanical movement in the I.N.O.X., a move that is obviously going to compromise its indestructibility, even if only a negligible amount in the real world. To think about who this watch is for – someone who desires a durable watch, but not
as durable
as the quartz version – is to enter the mind of Victorinox marketing professionals and product developers, and in so doing come to a realization of sorts about where the hobby is going.
We'll get to all that. But first and foremost, we'll evaluate the I.N.O.X. as a watch that stands on its own, not merely seen as a counterpart to the original quartz version.
$850
Review: Victorinox I.N.O.X. Mechanical
Case
Stainless steel
Movement
ETA 2824-2
Dial
Black
Lume
Hour and minute hands, hour markers
Lens
Sapphire crystal
Strap
Stainless steel bracelet
Water Resistance
200 meters
Dimensions
43 X 52mm
Thickness
12.7mm
Lug Width
21mm
Crown
Screw down
Warranty
Yes
Price
$850
Case
This case defines chunky. It's 12.7 millimeters thick, and 43mm in diameter. Those are imposing dimensions regardless of wrist size, and the weight, a full 7.1 ounces on the bracelet, only accentuates the watch's extreme heft. That said, unlike many large and heavy watches, the I.N.O.X. doesn't suffer from the "floppiness" often associated with watches of its ilk. We've all experienced this at one time or another: a watch whose case, because of its sheer weight, seems to move up, down, and around the wrist, as if it had a mind of its own. The I.N.O.X stays planted, and I think this is mostly due to the length and shape of the lugs, as well as the display back, which juts out from the bottom of the case to a point roughly parallel with the bottom of the lugs. This creates multiple potential contact points with the wrist, keeping the watch right where it's supposed to be.
The I.N.O.X. is big and heavy, but the well designed bracelet helps it wear fairly comfortably.
Of course, this is going to be highly variable for each individual wearer. My wrist is about 7.5 inches, and fairly flat, which might be the ideal size and shape for this particular case. My inclination is that those with smaller wrists will experience a fair bit of lug overhang with the I.N.O.X., making it a more difficult wear. Victorinox hasn't taken measures to reduce the lug size to something smaller than what would be in normal proportion for this oversized case, and I think they actually deserve some credit for that: they clearly are confident in the watch's design, and are happy with something squarely in the "big hunk of metal" genre.
The bezel of the I.N.O.X. deserves some attention here as well. It's the only element of the watch with highly polished surfaces, with deep bevels cut into the hexagonal shape. This gives the watch a modern, sporty look. I'd hardly describe the polishing as "blingy" in any way, but it offers just enough visual interest to an otherwise sober design.
Dial
The INOX's black dial is dominated by a stamped guilloche pattern that is meant to mimic the handle of a Swiss Army Knife. It has a matte finish and is completely serviceable but not particularly dynamic, which I think is fine for a tool watch of this type.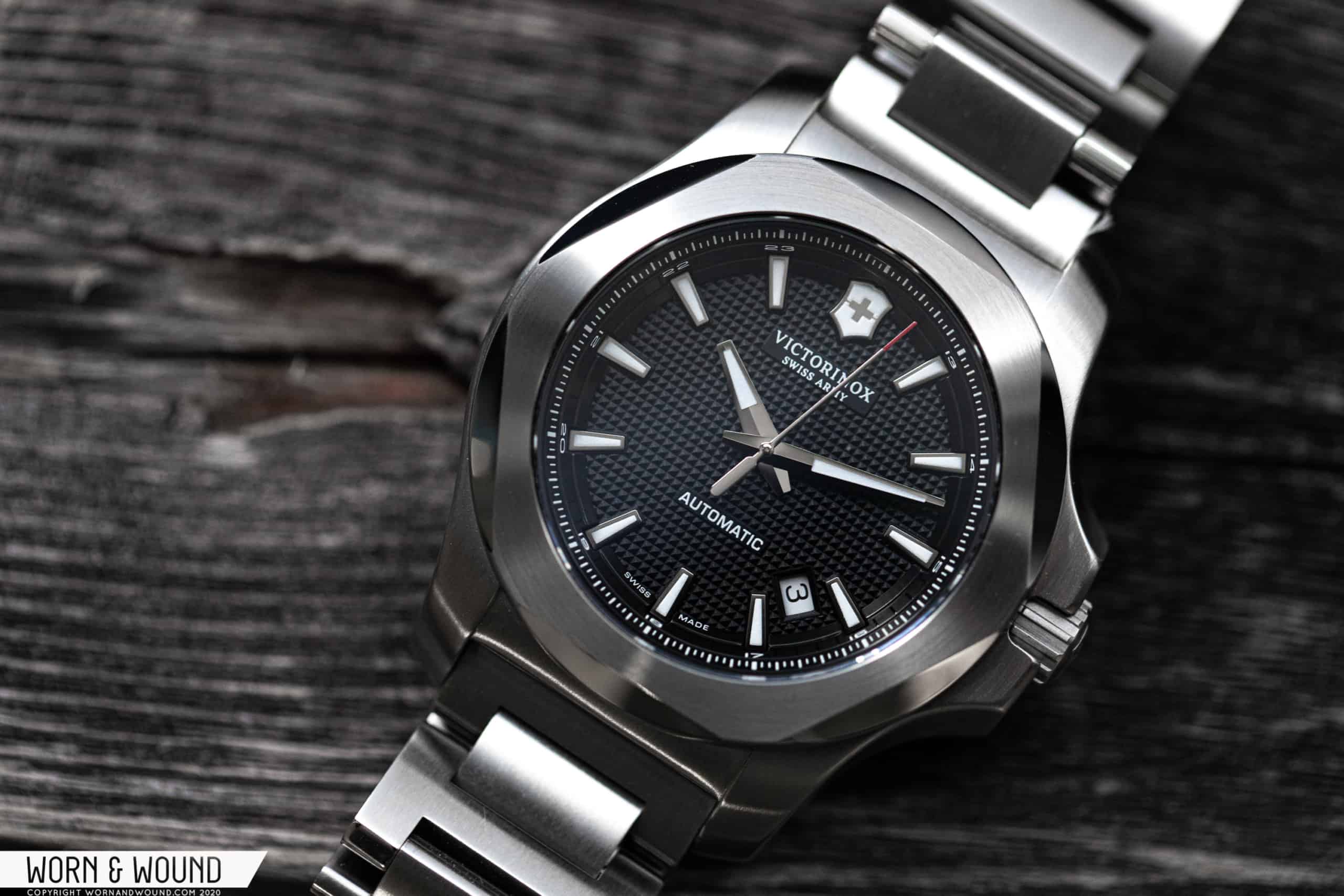 The dial is legible, without unnecessary frills.
Hands and hour markers are lumed.
While the date display is undoubtedly useful, it breaks up the dial symmetry here.
Detailing on the rehaut is impressive.
The most interesting visual element on the dial is actually the rehaut, which includes a minutes track in white as well as hash marks that are etched into the rehaut itself. This is such a small detail that it likely won't be noticed unless you go looking for it, and I'm not sure that on a watch like this, many users will be examining it with a loupe. But it's a nice little detail, and the minutes track in white is functional as it allows for increased legibility at wider angles of view.
Also worth noting with respect to the dial is its relationship to the bezel surrounding it. Because of the width and shape of the bezel, and also because of the polished elements at its perimeter, the dial, from certain angles, appears smaller than you'd expect it to be given the generally large size of the case. While at times it felt like the proportions were off, this is ultimately a much better option than a thinner bezel and larger dial, which would have appeared comically large on a case like this.
The dark dial serves as a useful background for the applied hour markers, which are nicely lumed, substantial, and well finished when considered in proportion with the rest of the watch. They're inoffensive and get the job done simply.
Movement
Powering the I.N.O.X. is the tried and true ETA 2824, a durable and reliable movement that is absolutely at home in a rough and tumble watch. The movement's humble but considerable technical attributes are well summarized
here
, but in the context of this particular watch the 2824 is as well implemented as a 2824 can be. The winding rotor is signed with the familiar Swiss Army logo, but on the whole decoration is minimal, which of course is entirely appropriate for a watch like this. It's been said many times, and many ways, by many a watch writer, but the value of a transparent case back on a watch in this price range isn't to allow for gawking at world class finishing, but merely for starting a conversations about mechanical movements when someone inevitably comments "nice watch." At least, as watch lovers, we all hope it's inevitable.
The always reliable ETA 2824.
Wearability
The wearing experience of the I.N.O.X. is where you'll either find the watch to be a success, or a complete dealbreaker. The Giant Hunk of Metal genre doesn't leave a ton of room in the middle, you'll either love it or hate it. The I.N.O.X., more than almost any other watch I've worn, is something that you're constantly aware of. It really has more to do with the weight of the watch than its size or case shape. There's no getting around it – it's heavy, and has a dense quality to it that ensures you're not going to, for example, forget to take it off before bedtime.
The I.N.O.X. I tested was mounted on Victorinox's H-link bracelet, which has a nice unadvertised feature that improves the way the watch wears by significant amount. The bracelet's end links fully articulate, resembling old-school straight bracelet end links that were much more common in the 1950s and 1960s. Most modern watches these days, even those squarely in the value category, use some kind of solid end link that's fitted precisely to the case. Doing otherwise is often seen as a cost cutting measure that consumers would not, or should not, accept.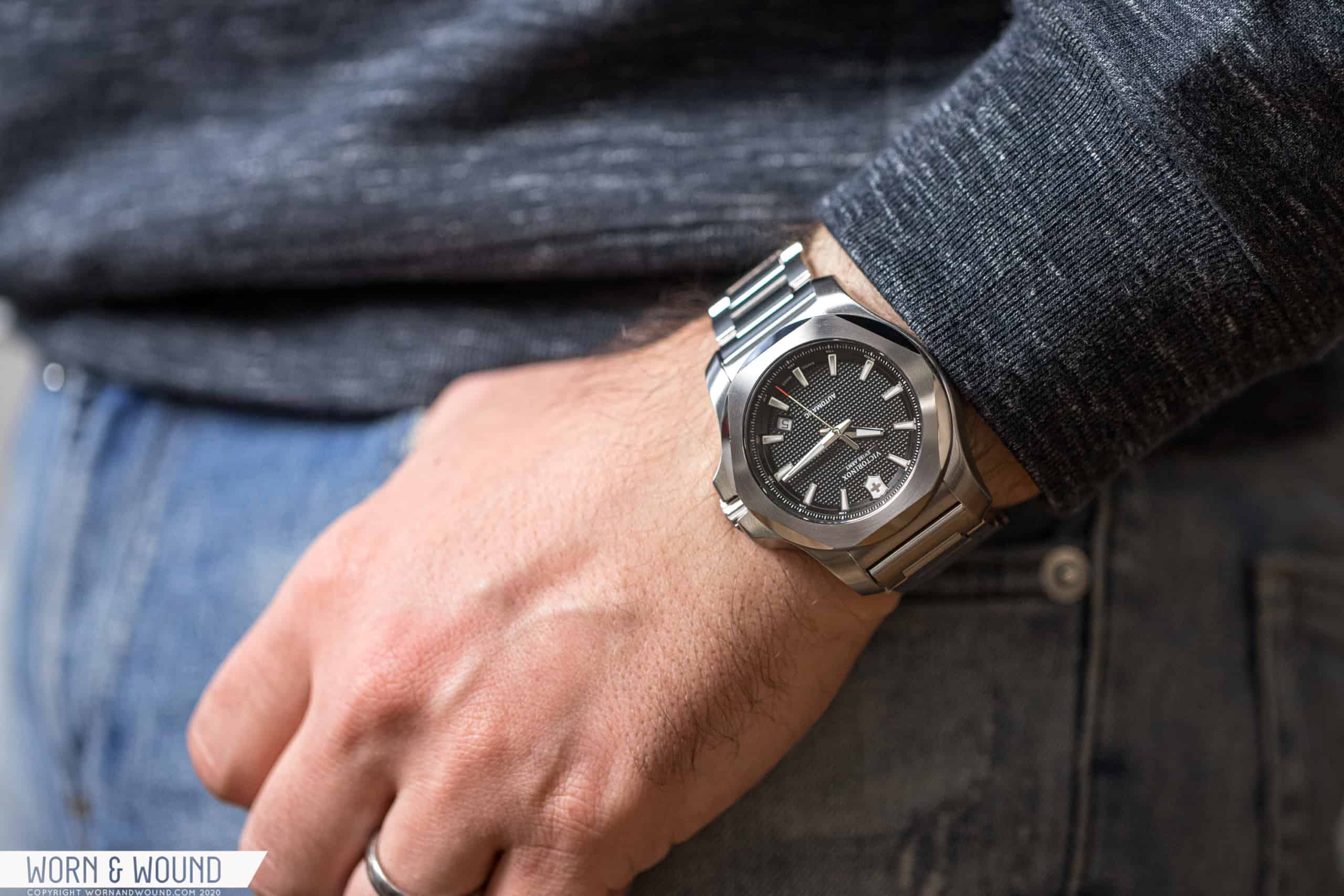 While the end links on the I.N.O.X. are "solid," they aren't fitted to the case. At first this
does
feel somewhat chintzy, at least compared to the watch head, which is anything but. Wearing and handling the watch, however, it's clear that this method of attaching the bracelet to the watch at the lugs allows for a much more comfortable drape, and likely shaves a few precious ounces off the total weight of the watch. This watch doesn't disappear on the wrist, and I wouldn't even describe it as "comfortable" in a traditional sense, but to the extent that you can wear this watch day in and day out, I think you have the bracelet to thank.
Conclusion
The I.N.O.X. is a little bit of a confusing proposition. It's very well made – for a mechanical watch under $1000, it's top notch in terms of conveying a sense of overall quality when you handle and look at it. But a lot of the
reason
for that perception of quality has to do with the watch's weight (heavier things always seem more expensive and better made, whether or not they actually are – it's a trick that has been used not just in watches but innumerable other product categories over the years). So the very thing that makes us feel we're holding a high quality object is also that which makes it a tough wear to some.
This is a common enough problem within the Giant Hunk of Metal watch category. Like any other highly specific type of watch, it's not going to appeal to everyone. But if you're a fan of the genre and enjoy the aesthetic, the I.N.O.X. could easily slide into your rotation, and stand up next to your Monster or PLOPROF.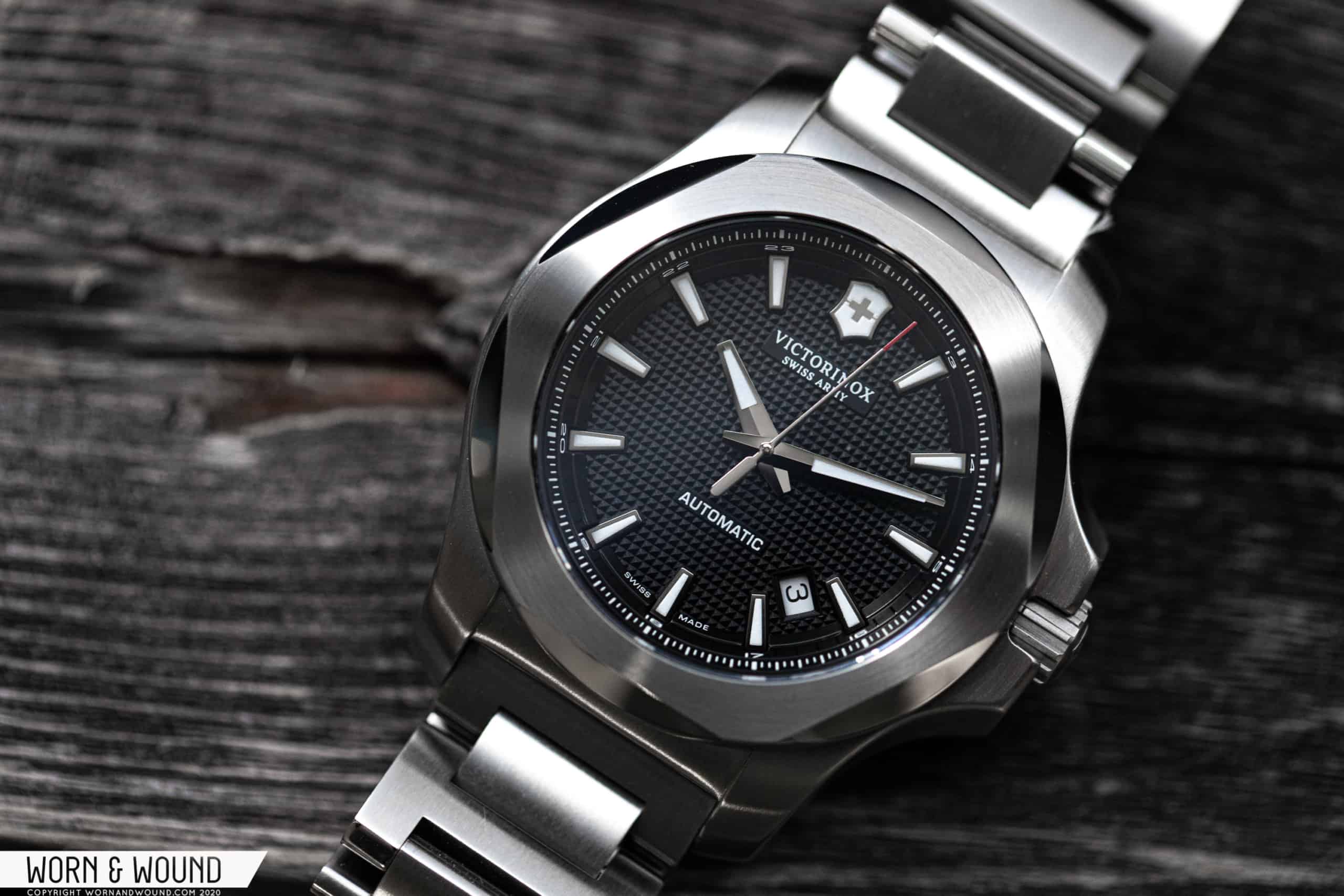 Of course, if you just need an
extremely
solid beater, and are ok with a quartz movement, the original I.N.O.X. comes it at just 4.7 grams (on rubber), can be run over by a tank, and is available on cool paracord straps. That's a fairly significant weight reduction, and in my mind makes more sense on paper as a watch that can actually be used without fatigue setting in. That timepiece is untested by me, but features the same case design, with a greater variety of dial options.
For someone who tends to wear and prefer watches of more modest proportions, having the I.N.O.X. on wrist for a short period of time was a fun reminder of the huge world of watches that we have available to us as enthusiasts. I likely never would have thought to pick up the I.N.O.X. and test it out as a consumer, but wearing it for a bit got me thinking about the qualities we look for in a watch in a way that I hadn't in quite some time.
Victorinox
Images from this post:
The post
Review: Victorinox I.N.O.X. Mechanical
appeared first on
Worn & Wound
.
Continue reading...
Let us know your thoughts and impressions.